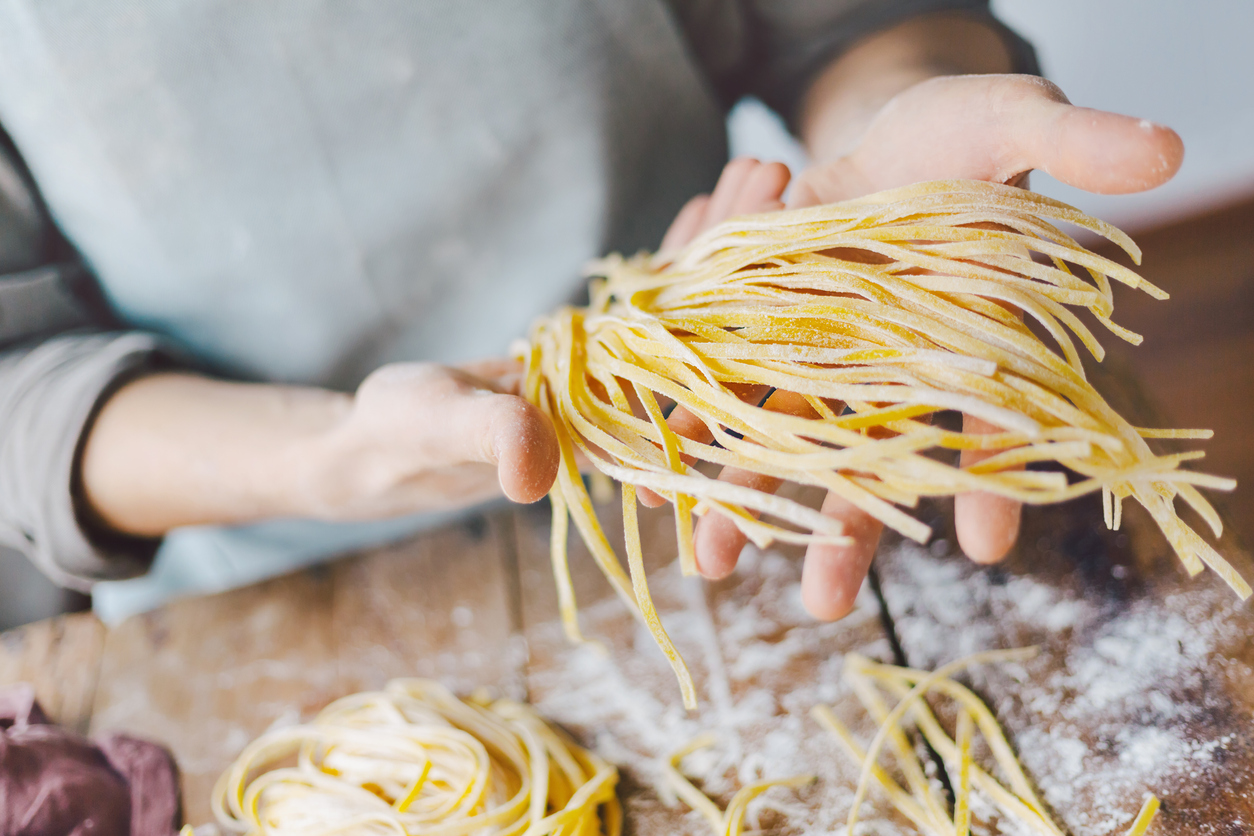 There's just about nothing more dreamy than tucking into a plate of hot, fresh pasta with your significant other for a date night. Though it may seem daunting, making your own pasta is incredibly easy, and comes with a big sense of pride and accomplishment (and some bragging rights!). This easy recipe for homemade pasta can be done in a food processor, stand mixer, or by hand, and none of the special tools are actually mandatory for making fresh pasta.

Kitchen Tools
You can absolutely make pasta with just your hands, a fork, rolling pin, and a knife. But if you wanted to splurge, these items are helpful:
Pasta maker – Pasta makers come with a rolling tool and a cutting tool that make easy work of getting your pasta rolled thin and cut.
KitchenAid pasta attachment – If you own a KitchenAid mixer, you're in luck! The brand offers several pasta making attachments including a roller, cutter, and extruder.
Pasta drying rack – Optional, but helpful if you're making a medium or large batch of long pasta such as linguine or fettuccini.
Ingredients
This is another area where it's OK to use what you already have on hand, but you can always upgrade to more authentic ingredients:
All-purpose flour – If this is what you have on hand, by all means, use it! It will still yield delicious, fresh, al dente pasta.
Eggs – Some recipes don't use eggs, but most beginner recipes do.
Olive oil – helps to moisten the dough.
00 flour – this is what is used in Italy and many professional kitchens, but it is not mandatory.
Semolina flour – also used in Italy and restaurants, and can help the sauce stick to the noodle better.
You might also like: Check Out The Nissan Versa
Method
You'll follow the instructions here for using either a food processor or stand mixer, both of which yield the dough very quickly. You can also mix it by hand, which will give the same results with only a slight increase in time.
After you've created your dough and let it rest, you'll roll it out using either a rolling pin, pasta maker, or stand mixer attachment until it's very thin, about 1 – 2 mm. Then, you'll feed it through the cutter, or fold it in loose, flat cylinders and cut it with a very sharp knife. After the cut pasta has rested for 30 minutes, you'll boil it in very salty water for seasoning for no more than 90 seconds. Top it with the sauce of your choice (tip: try this simple tomato sauce or this aglio e olio recipe) Bon appétit!